2016–2017 Membership
New MTNA Credit Card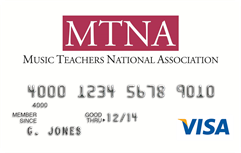 Professional Insurance Coverage
General Liability Insurance is now being offered to MTNA members through Clarion Associates Incorporated—the insurance company that provides instrument insurance program to MTNA members. In addition, Clarion is offering "event insurance," which includes coverage for recitals and other events held outside your studio.
Personal Insurance Coverage
Through the Trust for Insuring Educators (TIE) and Forrest T. Jones & Company, MTNA is now offering health care insurance along with a variety of other new insurance products for members and affiliates.